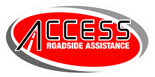 Based in Canada, Access Roadside Assistance, is a roadside assistance company to keep an eye on.  Even though there are based in Canada, they have grown to provide extensive coverage throughout Canada and the United States.  Access offers membership options for just about anyone with the exception of commercial vehicles.
The Plans
The entry level plan is known as the Basic Plan. The Basic Plan is $69.95 per year and allows up to 5 calls per year and a tow distance up to 7.5 kilometers which is equal to about 4.7 miles.   The plan also offers locksmith service up to $50.   The Basic Plan is the only plan from Access Roadside Assistance that doesn't cover motorcycles or scooters.
Access does provide a Motorcycle Plan for $49.95 per year.  This plan allows up to 4 calls per year and a towing distance up to 40 kilometers or about 25 miles.
The more sophisticated plans known as the Advantage, Family and Premium range in pricing from $99 per year all the way up to $249 per year.  The main difference in these plans are the # of tows and the towing distance.  The Premium Plan also allows a higher allowance for locksmith service and fuel delivery.
If you spend your life in your car and travel long distances, Access provides the Elite Plan.  This plan is offered at $495 per year.  Why is this called the Elite Plan.  Well, it comes with major travel benefits.  With this plan, Access will provide;
One Way Airline Ticket to Destination up to 2 flights per year.
Vehicle Rental up to 4 days
Hotel Rental with 2 stays per year with up to 4 nights each per stay.
Food Allowance up to $100 per day
The Perks
Access Roadside Assistance has a Reward Membership Program that provides discounts up to 50% for travel, hotels, shopping, food, and entertainment.  Unlike other roadside assistance providers, Access charges $14.95 per year for access to the rewards program.
Summary
Access Roadside has great coverage across the entire North America.  They provide 6 plans to make sure your vehicles are protected.    To really see the value with Access Roadside Assistance, your spending over $100 per year which is higher than other leading roadside assistance companies.
The company has major potential and is great if you live your live on the road.  For your everyday roadside assurance, other companies can provide greater value with less costs.